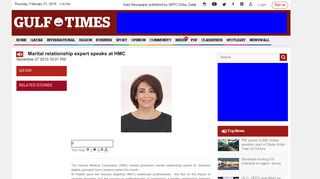 Marital relationship expert speaks at HMC
The Hamad Medical Corporation (HMC) hosted prominent marital relationship expert Dr Sandrine Atallah from Lebanon earlier this month. Dr Atallah gave two lectures targeting HMC's healthcare professionals - the first on the impact of prostate disorders and the second on methodologies of maintaining a healthy relationship between couples and the role of specialist doctors.
---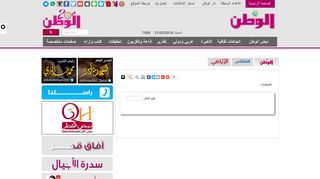 عيادة جديدة للصحة للاستشارات الزوجية في حمد الطبية
استضافت مؤسسة حمد الطبية الدكتورة ساندرين عطا الله– استشارية العلاقات الزوجية في لبنان، وقد استقبلت الاستشارية الزائرة العديد من مرضى عيادة الاستشارات الزوجية في مستشفى حمد العام، كما ألقت محاضرتين للكوادر الطبية، تناولت في الأولى تأثير مشكلات البروستاتا على الصحة الجنسية للرجل، وفي الأخرى تحدثت حول الطرق اللازمة للحصول على حياة جنسية سليمة لدى الزوجين
---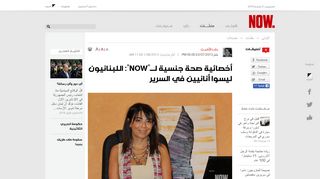 اللبنانيون ليسوا أنانيين في السرير
عطاالله هي أوّل أخصائية صحة جنسية في لبنان، درست الطب في الجامعة اليسوعية وأنهت اختصاصها في فرنسا، ثم عادت عام 2007 كي تنشر الصحة الجنسية مهنياً، لأنها كانت تشعر أن هذا الاختصاص مفقود في لبنان
---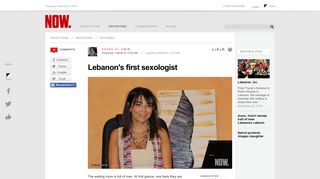 Lebanon's first sexologist
Sandrine Atallah is Lebanon's first sexologist. Having completed her medical studies at Saint Joseph University and her specialization in France, she returned to her home country in 2007 to spread sexual health as a profession, as she felt that this specialization is nonexistent in Lebanon.
---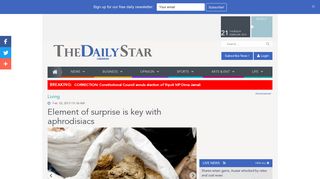 Element of surprise is key with aphrodisiacs
"It's not really physical, but if you work on imagination, creativity and fantasy to invoke desire, you will feel the effect," says Dr. Sandrine Atallah, a sex therapist based in Beirut.
---